Tim Shaner
from Material Confessions
Sixth Material Confession
Indian take out
In the fridge
In white cartons
I think, movie
Though better not microwave
Them in that as they
come w/ wire
handles
Chicken Korma and Chicken
Sagwala and Chicken Vindaloo
We ordered it with Vegetable Pakora
And Plain Nan
It cost us thirty-five dollars roughly
Plus gas
I saw it when I fetched the half
And half
In the bowl a banana
Somewhere in the mix
Beside the Frigidaire
I'll likely not eat as it's
gone soft
and no doubt
mushy
The mango's set to go
But the oranges are
Imploding on themselves
Must make banana bread
Quick
But got no pecans
And the walnuts in the bag
Well old by now and
likely bitter
And so like the banana
And maybe the take out
I'll probably
chuck it
I threw out a chicken breast
The other day
The next morning the kitchen
Stunk big time
There's one in the fridge right now
I better tend to
I also fetched a rotting green substance
In plastic bag
from the bin
It was either Italian parsley or
cilantro
T'was squishy
I'm not sure whether to ditch
The moussaka I made the other day
Is it safe
to eat it's delicious
Just like that batch of milk
recalled for possible
salmonella
poisoning
I had already drunk it
and so drank it
again,
All of which made me wonder later
In the day, when my stomach went sour,
Whether it was the milk or the coffee
Or the IPA's I slugged last night
There was an onion involved in there
I never used as well as the slices
Of left over eggplant
I threw them out
The coffee T made this morning
Was stale by the time I got up
I threw it out
And made a new pot
I'm going to marinade the breast
In olive oil and lemon
But the thyme is dead
For lack of water
I forgot to plant it before
Going on vacation
The oranges are still juicy
Inside no doubt and so
I could make some juice
But I own
No juicer
We have a blender
And a food processor
We have a snow cone
Maker
We ditched the pasta
press
The blender's
My grandfather's
Who died at
98
from Neolamprologus Brevis, Shelldweller
4.
I just had to. It's like the computer has downloaded me into its bio
Metric causeway. A stuffed gull tilts its head, eye's you. The watch
Still wears its price tag, yet the second hand's shot! It's all happening
Too fast! yet 'it's hard to say whether anything's moving' or, here's a clock
That wiggles. Its 'click' is digitally enhancing my hairline. In place of cries, the
The newborn sighs; best spank it. Not unlike Bartleby's not. The teamwork
Sucked tonight; fans slouching back to their crummy jobs, factories of lore.
Right about now is when I tend to here, an echocardiogram. Some variant
On a line, any adds a kind of cohesion yet belatedly post-avant play to
What might otherwise unravel entirely of its own blobby centrifugal
Force-work, if you will. I took notes during the event in order to prevent
The inevitable. The first attempt at making something of it failed, naturally,
So I bludgeoned it with blog-o-sphere. It's like history, sneezing hard
Or, your cell phone has made a livingroom of my commonwealth
from Interstitials or, Slack Time
financial mercantilism
taut tense and terrific
chives in whooping cream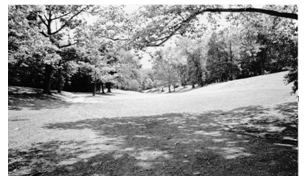 —to have that place
expanse
where one
might wander for a sincere stretch

the constant noise n sight of cars
receding
rceding
rcding
rcdng
rcdg
it's the alternator, stoopid
turn left into oncoming killer traffic
the car's honk bends as it speeds
by
When they fund the military they're funding t
[over bridge / over dale]
he AUC
waiting
in the left lane
for the car ahead
to turn, swerve
right
in front
of blaring
gold SUV
we have flags
leave me alone
virological dot . . . begin evasive elliptical maneuvers . . . do you know where your dots are tonight . . . urgent: connect the dotage
the third dot signifies
wimp factor
place elsewhere
[at register / in the racks]
innocent spore: really, what harm
has it ever done
enzensberger
acute strains. . . [of] . . . global goodwill
flourishes . . . [of] . . . firm evidence
a fantasy wish-list . . . [of] . . . greater flexibility
shirt 10-12 medium
dress 10 medium
pants 12 medium
all dogs must be hand controlled
good morning
we don't need a key
"'A good poet doesn't select his materials.
what is there to select? IT is.'"
[down the aisle / in the air]
entering
delaware park at its lincoln pkwy n rumsey rd
entrance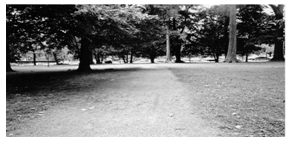 the low reaching canopy of leaves creates a door
like affectation
the gravely trail into dark trunks
"of maples and men"
draped
in shade
clank n ping of "hammer on steel"
of workers erecting willie's stage
the Buffalo Parks Dept.
gathers its leaves in a roaming truck
"'one of the things that make a plant GO'"
the ribbed pattern
of a tractor wheel
imprinted
in the mud below
a blue pesticidal
screen
$18.03 on gas
clumps of stench
float on the eastern tip of Hoyt lake
across from "Forest Lawn Cemetery"
[under shower / clipping toes]
"what music this is"
it's not that poetry is rejected
by the laboring society
it's that poetry rejects
the laboring society
Marcy Casino
Rose Garden
Shakespeare Hill
Hoyt Lake
[under scalpal
poetry
in the gas]
Others
This
Kathleen Fraser
"'To book as in to foal. To son.
Those wobbly legs'" (16).